I-5 Mini Storage Providing Napavine Storage at Affordable Prices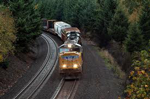 I-5 Mini Storage is the largest Public Storage facility in Napavine and is located within the city limits of Napavine just off I-5 at exit 71. We have over 300 self-storage units with a large number of easy access drive up storage units as well has heated storage and climate controlled storage. We provide Napavine storage solutions for household storage goods as well as business document storage. We have more storage solutions than any other storage facility in Napavine including Portable storage containers that can be delivered to your home or Business. When it comes to moving and storage nobody has more options than I-5 Mini Storage.
24 hour access for those qualified businesses.
Business, we accept UPS and Fed-ex shipments for our commercial storage customers which will eliminate the cost driving to pick up parts or products.
Location
Covenant location, our facility is conveniently located in Napavine at exit 71 on interstate 5, just 1 minute from downtown Napavine.
Clean
Clean Modern facility with majority of drive up units. Large turn around area at end of each isle makes turning a large moving van or U-haul truck a breeze.
Security is our top priority, it starts with providing every customer with a free high security disk lock, and backed up with our electronic key pad entry gate, and video security cameras, an abundance of nightly lighting and high visibility from the overpass adds additional security.